About dental bridges
Lost teeth should be replaced as soon as possible, and for a number of reasons. Missing teeth are not just a nuisance because it makes it harder to chew or because it is unsightly, there are real negative consequences to having missing teeth, as missing teeth will cause other teeth to pick up the slack and be worn down much quicker.
Dental bridges are a classic and affordable method of tooth replacement. A dental bridge consists of several crowns in a single restoration, which the dentist anchors to a dental implant or to a healthy tooth. If cared for properly, dental bridges can last up to 15-20 years. But you need to clean them properly for that!
Cleaning your dental bridge
Whether you have dental prosthetics or not, a proper at home oral hygiene routine is absolutely indispensable for your oral health. You should brush at least twice a day, cleaning your tooth gaps and taking care to lead a healthy lifestyle will all contribute to avoiding dental issues.
Cleaning your dental bridge will require a bit more care. Make sure you are brushing your teeth properly. Brush for at least two minutes at a time, using not too strong, circular movements in order to protect the teeth and gums and not harm them. We highly recommend using electronic toothbrushes, as they are more thorough then fallible human movements, and is better at cleaning tooth gaps, too. It is absolutely necessary to use dental floss or an interdental toothbrush to clean tooth gaps, and to use either an irrigator or mouthwash to clean the areas that you cannot reach with a toothbrush.
Possible risks of dental bridges
The area below a dental bridge is particularly sensitive: the bridge, the teeth and the gums do not fit with complete accuracy, and so small spaces will appear there, and the food detritus will settle in these places. These build ups often cannot be removed even with very rigorous cleaning. And the bacteria thrive on them, causing tooth decay and periodontitis, and the decay often cannot be seen.
The area underneath the crowns is thus unsafe, as decay can start under there, too. When the patient starts to feel pain or other palpable symptoms, usually there is already a lot of damage. Treating these is usually more expensive and a lot harder than treating nascent problems, and often will require a new dental bridge.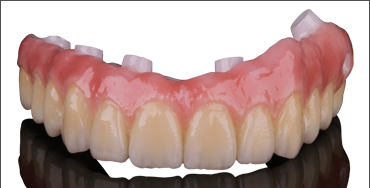 Our recommendation is to be extra circumspect and try and clean under the bridge as well, but also to make sure you go to your half year check-ups, as they are absolutely mandatory, and your dentist will clean out the detritus at these sessions.

Check out our actual offers