White, sparkly teeth create the illusion of youth and health, and will make your face more beautiful. Our teeth do become discoloured over time, unfortunately, from stains left by food and drinks, coffee, tea, alcohol and smoking. Modern dentistry can provide a quick and easy solution to this problem, and can help you regain the sparkle of your teeth. One of the techniques that can be used is laser tooth whitening, which will be described in detail in the rest of this article.

The process of laser tooth whitening
When going to a professional whitening session, they usually whiten the teeth chemically. This can only be done on teeth that are healthy and do not suffer from decay, or else the pain will flare up, and you should definitely have a hygiene session as well beforehand to remove any and all tartar. The dentist will first and foremost apply a tooth whitening mixture to the teeth using a small brush, up to 2 millimetres thick on the tooth surfaces. Using an activating lamp with blue light, they will shine a light on the tooth surfaces for 15 to 30 seconds at a time, with 10 second intervals between them. The colour will get a bit darker in three weeks, but then will stay the same. In those initial three weeks, you should avoid any foods that can stain and discolour teeth. Chairside whitening sessions have no negative effects that we are aware of. You can accept your teeth to become 2-4 shades whiter after every session.
At home whitening kits
There are at home tooth whitening kits available on the market as well, which contain all of the materials and tools needed to whiten your teeth at home.
At home tooth whitening kits include:
Tooth whitening gel, which, once applied to the teeth, can remove staining.
A tooth guard that is made for you after taking an impression at your dentist's office.
At home tooth whitening kits work in similar ways to the aforementioned chairside ones, but the gel is less concentrated, so the procedure is less abrasive to the soft tissues. The treatment must be repeated for 10-14 days, and takes a couple of hours every day for this time period. After the procedure is completed, you can expect your teeth to be up to 4-5 shades whiter, and the effects can last up to 1-2 years, depending on your lifestyle and eating habits, and of course, your oral hygiene.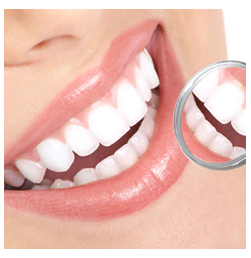 When not to get whitening treatments
In certain cases it is not recommended, or straight up forbidden to get tooth whitening treatments:
If you are expecting or breast feeding
If you are allergic to any of the materials used
If you are below 16 years of age, as the nerves are still developing at this point
If you have broken, damaged or decayed teeth, or if you are suffering from periodontitis or gingivitis, as these problems must be dealt with before you get treatment
If your teeth are grey and not yellowish, the treatment may be ineffective, so you should speak with your dentist before getting whitening treatments
How is it better than other procedures?
Laser whitening will whiten the deeper layers as well, and not just the enamel and the immediate tooth surface

The treatment time is not long at all, but with proper oral hygiene care, you will see and feel the effects for a long time to come.